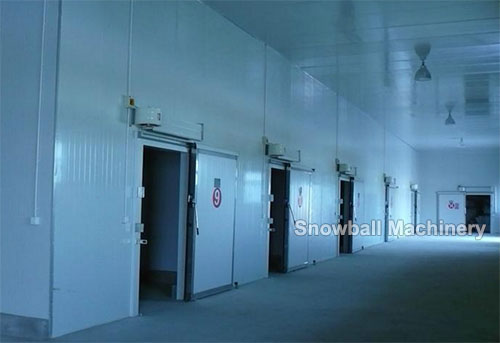 Hot sale and high quality ice cream low temperature cold storage room for ice cream factory.

1. Cold storage capacity divided by small, medium and large cold storage, storage temperature divided by relatively high temperatures, generally warm temperatures, low temperatures and freeze library.

2. Capacity Category:
Small refrigerator < 500 m3
Medium-sized refrigerator 500 to 1000 m3
Large cold storage > 1000 m3
Customizable

3. Storage temperature classification:
Higher temperature cold storage: ± 5 °C
General cold temperature: -10 °C ~ -5 °C
Low temperature cold storage: -20 °C ~ -10 °C
The freezing cold: below -23 °C

Certification: CE

Advantage:

1. Snowball Machinery has the flexibility and experience to provide solutions for virtually any custom cold room application.

2. High efficiency cooling system

3. Excellent quality, stable performance

4. Simple and easy to use.