38%?Why ice cream market Growth under Coronavirus
Friday, April 03, 2020

Coronavirus outbreak is now a global pandemic. The figures of market in China show that, in January and February, China's retail sales of consumer goods fell 20.5%. Affected by outbreaks and self-isolation advices, consumers have reordered their shopping lists. Industries hit hard by coronavirus, but the sales of ice cream increase during this time.

Facing the coronavirus, people need to vent their emotions to relieve anxiety. As a result, Chinese families' expenditure on ice cream experienced increase of 18% in the first and second weeks after the coronavirus outbreak, the number up to 38% in the next two weeks, far exceeding the growth rate of overall food consumption. This shows that in a special context, if the product can meet people's emotional needs, it will get unexpected results.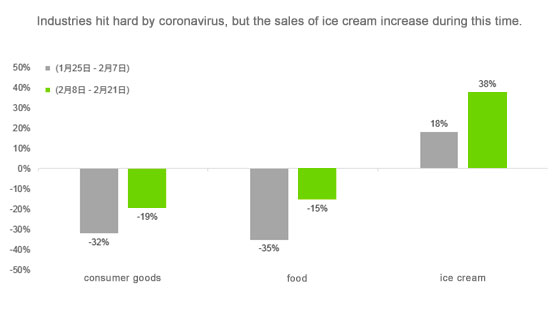 What can we do?

1. Discover household consumption potential
Compared to other countries around the world, the scenario of eating ice cream at home is not common in China: less than half of Chinese families in a year will enjoy ice cream at home. In the ice cream family consumer market, in the worst month when the coronavirus outbreak, the number of purchases, frequency, and single purchases rose comprehensively. It shows that, to ease negative emotions, the class at home / work at home, enjoying ice cream at home is becoming more important. If manufacturers can seize the opportunity and follow the trend, continue to encourage consumers to "enjoy ice cream at home", there is no doubt that it will bring huge returns in the future.

2. Short-term and long-term strategies
In the short term, manufacturers can adjust their advertising strategy for packaged ice cream, increase online advertising. While encouraging consumers to "enjoy ice cream at home", we also have to ensure ice cream supply in offline stores. During self-isolation, convenience store and ice cream shop near the community are good choice for customers. At the same time we should pay more attention to online sales.

In the long term, as people pay more and more attention to keeping healthy and fit, it may be an important resistance to the development of ice cream industry. Therefore, innovation with the topic of health is an important opportunity for the future development of ice cream products.

Packaging ice cream manufacturers should seize this opportunity to allow consumers to develop the habit of "enjoying ice cream at home" even during the off-season. This will not only make up for the losses currently caused, but also help the market develop in the future. At the same time, we must be fully prepared for the coming summer. When our lives return to normal, competition for ice cream products market will be more intense.