Snowball Machinery® 150L 300L to 600L Ice cream continuous freezer /continue freezer
The working principle of the ice cream continuous feezer /continue freezer, the ice cream slurry is pumped into the freezing cylinder of the ice cream machine together with the air through the ice cream material pump equipped with the air intake adjustment valve, and is mixed by the dasher, and the refrigerant in the freezing cylinder jacket (It is generally used as Freon R404, which is environmentally friendly and has high efficiency) to freeze the slurry, and the ice cream frozen on the inner wall of the freezing cylinder is continuously scraped by the stainless steel blade on the dasher. The slurry is continuously frozen, scraped, mixed with air and stirred, and finally becomes an ice cream product with high overrun and fine structure by pump pressure through an adjustable constant pressure valve.
Snowball Machinery® brand ice cream continuous freezer /continue freezer Main Components: refrigeration compressor, motor, freezing drum, dasher, blade, material pump, refrigeration and condensation system, temperature control system and main program system, etc. Snowball Machinery® adopts imported international well-known brand compressors, motors, and freezing cylinders. The main materials such as nickel and copper with high heat exchange efficiency are used according to different output. The blades are made of special imported stainless steel tool steel, and the material pump is made of special imported materials (According to different models, choose Piston pump or gear pump), refrigeration condensation and control systems all use international well-known brands to ensure the smooth operation of the equipment, maximally avoid or effectively reduce the cost increase due to frequency maintenance and equipment maintenance for customers.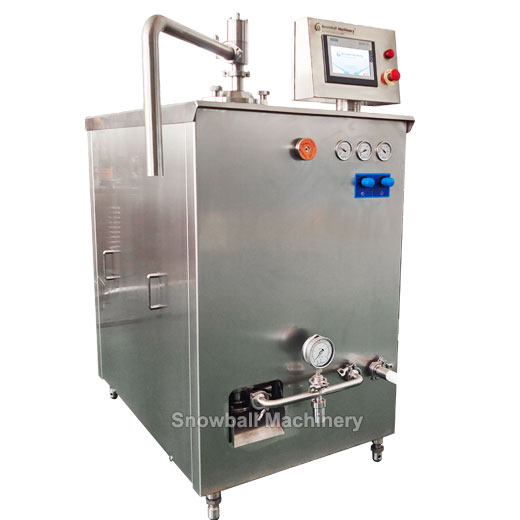 SNCF 150L 300L to 600L
Snowball Machinery® Ice cream continuous freezer specification table
Model
SNCF 50L
SNCF 300L
SNCF 600L
SNCF 1200L
SNCF 1500L
Inner compressor
4KW
7.5KW
11KW
30KW
30KW
Coolants
R502, R22, R404
R502, R22, R404
R502, R22, R404
R502, R22, R404
R502, R22, R404
Condensation media
Water
Water
Water
Water
Water
Dasher motor power
0.75KW
3KW
5.5KW
11KW
11KW
Ice cream pump motor power
0.37KW
0.75KW
0.75KW
1.1KW
1.1KW
Air consumption
0m3/h
0m3/h
2m3/h
2m3/h
2m3/h
Total power
5KW
14KW
18KW
45KW
45KW
Condensation water consume
≤+20℃
600L/H
≤+20℃
800L/H
≤+20℃
1200L/H
≤+20℃
6000L/H
≤+20℃
6000L/H
Temperature of input material
+5℃
+5℃
+5℃
+5℃
+5℃
Temperature of output material
-5℃
-5℃
-5℃
-5℃
-5℃
Overrun
100%
100%
110%
120%
120%
Material feed pipe
25mm(outside)
25mm(outside)
25mm(outside)
25mm(outside)
25mm(outside)
Material out pipe
25mm(outside)
25mm(outside)
38mm(outside)
38mm(outside)
38mm(outside)
Weight of machine
280KG
446KG
525KG
1246KG
1254KG
Video of Ice cream continuous freezer /continue freezer machine:
Couldn't see the video? Contact us ice@hiicecream.com
FAQ
1. Are you Ice cream continuous freezer /continue freezer manufacturer?
Yes we made Ice cream continuous freezer /continue freezer.
Snowball Machinery® is a comprehensive Chinese industrial ice cream solutions provider. We have machine range among rotary or linear types, where it's possible to choose suitable machine for our worldwide customers.
2. Can Ice cream continuous freezer /continue freezer Equipment be customized according to demand?
Yes. We have different capacity model and also we can be customized according to your ice cream factory production demand. We can customized it as two color, three color different ice cream.
3. How do you ensure ice cream continuous freezer quality?
We get over 10 years' experiences of design, manufacturing, exporting delivery, installation, commissioning, personnel training and site attendant production. More information please read our explain as above.
4. How many countries you ever export?
We have export more than 60 countries. If you are interesting, we can give you a list by email.
5. Which country you can export to?
All the countries are in our selling range.
6. How much price of different model Ice cream continuous freezer?
Please sent your requirement to ice@snowballmachinery.com or hiicecreammachine@gmail.com , our team will contact soon.
7. How long is Ice cream continuous freezer /continue freezer delivery time?
Normally we have some storage, after order confirm, two weeks can be delivered.
8. Why customers choose your Ice cream continuous freezer /continue freezer?
We have a research and development team composed of professional senior engineers and an after-sales service guarantee system to provide customers with high-quality, efficient and considerate services.
9. Can you supply machine body Spare Parts for other brand continuous freezer?
Still now we supplied spare parts for our own machine only. If special requirement, welcome contact us.
10. Can you supply ice cream packages?
Yes. Welcome to visit our packages website Packing Tech. Or contact us.
11. Can you supply some related machine work with continue freezers, like fruit feeder, ice cream filling machine or any others?
Yes, we have almost all kinds machines working with continue freezers, I.e fruit feeder, ice cream filling machine, and others, welcome contact us
12. Can you supply the whole ice cream production line?
Yes. Our ice cream equipment starts with raw material storage, continues through material pro-mix preparation to continuous freezing, ingredients fruit feeder systems. Our production solutions include the moulding stick ice cream machine, filling ice cream machine, hardening tunnel and extrusion ice cream machine, robot ice cream machine for making cups, cones, logs, cakes, family packs, packaging of stick products, still final solutions for ice cream cartoners.
Any questions, please contact us via email
ice@snowballmachinery.com
hiicecreammachine@gmail.com
ice@hiicecream.com