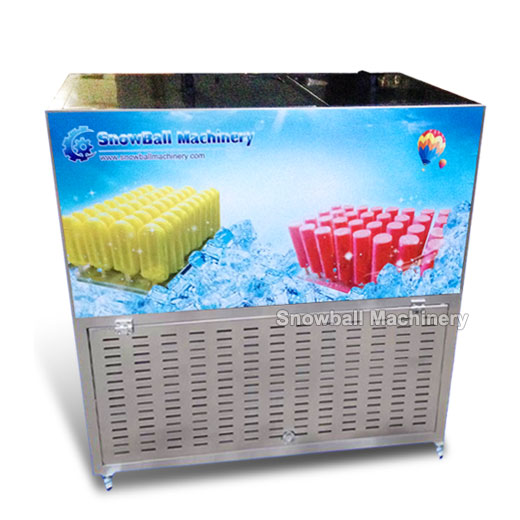 Commercial popsicle making machine, apply stainless steel structure, look good and durable, adopt France compressor, efficient water cooling or air cooling system for choice. Suitable for fast food shops, food processing factories, ice producing factories and other places requiring a large amount of ice.

Operation Process :

Put the water and Cacl2 as secondary refrigerant into the machine - open the machine to cool down the machine -18ºC for 20 minute - put the popsicle liquid into the mould - put the mould in the machine - freeze 20 minute - after frozen, take out the popsicle from the mould - use packing machine to pack the popsicle.

Output: 200pcs-3000pcs/h
Size: 600*1100*1250mm
Weight: 170kg
Certification: CE

Advantage:

1. Best quality, easy to operate, low noise, light and flexible.
2. Can be operated under high temperature freely
3. High efficiency and energy conservation. Low cost of maintenance.
4. Fully automatic microcomputer control system
5. Over current & pressure control system
6. Apply stainless steel structure, look good and durable .
7. Different ice mould for choice. Stainless steel mould can resist hydrochloric acid eroded.
8. Low capital investments with max production.
9. Suitable for ice cream shops and food processing factories .
10. Specific plugs for your special case.