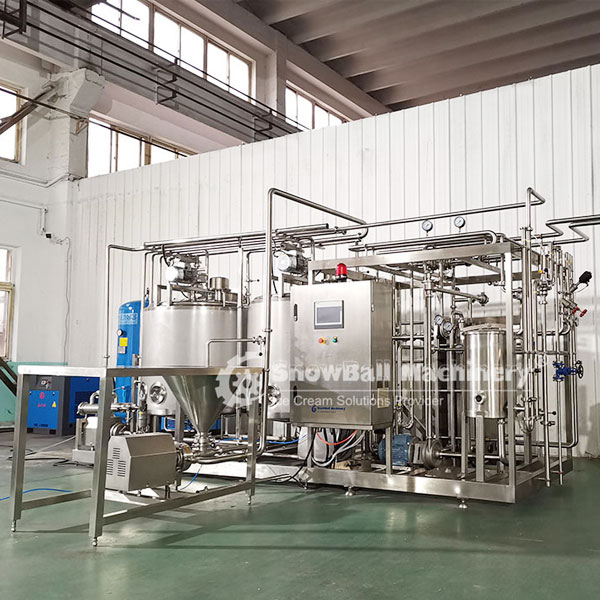 Snowball Machinery ice cream HTST system, mixing plant. Automatic, semi-automatic, manual system, or batch system can be choice. Mix processing lines HTST ( High Temperature Short Time ) 300L , 500L to 5000L per hour for options.

Complete plant, pre-assembled on a stainless steel platform, complete with : N. 2 PREMIXERS in stainless steel for ingredients preparation, having the following features:
Cylindrical vertical tank in stainless steel AISI 304/SS316
Isolation in polyurethane injected at high density.
Specific circuit Trapcold on the bottom and on the walls for water circulation at 95°C
Finishings suitable for food contact
Open execution
Slanting flat bottom with lateral outlet
Stirrer at high efficiency
Clamp inlet for washing with diffuser
Product entry through anti-foaming clamp
Product discharge through a two-way clamp valve
Stainless tubular feet
N. 1 CENTRIFUGAL SANITARY PUMP
for mix feed, in stainless steel
composed by
Stainless steel bottom
Electrical motor with watertight flange and terminal board
Pump body in AISI 304
Removable cover in AISI 304 for inspection and washing
N. 1 LITER COUNTER
suitable for water, programmable. With selector to select the premixer
N. 2 TUBULAR FILTERS
in stainless steel, in-line, for mix filtering, complete with extractable cartridges. They are equipped with by pass cocks for the rapid disassembly and for filters cleaning, without stopping the pasteurisation cycle
N. 1 BALANCE TANK
equipped with float.
composed by
Cylindrical body in stainless steel AISI 304/316
Basement and cover in stainless steel AISI 304/316
Tubular supporting feet
Float in stainless steel AISI 304/316

N. 1 CENTRIFUGAL SANITARY PUMP
With double speed motor
for the product feeding to heat exchanger
composed by
Stainless steel base
Electrical motor with watertight flange and terminal board
Pump body in AISI 304/316
Removable cover in AISI 304/316 for inspection
N. 1 PLATE HEAT EXCHANGER
At four sections for the ice-cream mix pasteurisation and cooling

First section: pasteurization from 76 to 85°C
Second section: recovery from 55 to 76°C
Third section pre cooling with from 64 to 34°C
Fourth section: cooling with cold water from 34 to 4°C
Heat recovery: approx. 71.4%
In stainless steel AISI 304/316, sanitary execution with supporting feet in stainless steel Frame
in stainless steel AISI 304/316 with supporting column, driving bars and clamping devices
Intermediate
in stainless steel, constituted by N. 3 intermediates
Heat exchanger plates
thickness 0.6 mm, in stainless steel and gasket in Perbunan
Pressing plate of the previous plates, made in stainless steel
N. 1 TUBULAR HOLDER
In stainless steel, on a basement. Holding time 40"
N. 1 PNEUMATIC THREE WAY VALVE
to deviate the mix flow if it hasn't reached the pre-defined temperature
N. 1 HOMOGENIZER

complete with:
Head in stainless steel AISI 316
Pumping pistons in AISI 316
Valve guide and springs in stainless steel
Spheroidal valves group
Homogenising group
complete with:
Homogenising chamber fixed on the compression head with pneumatic pressure
stabiliser, to have a perfect micronization and stability of the treated product
Homogenising valve
Motorization
at positive transmission obtained by the use of four pulleys and two toothed belts.
Lubrification plant at forced circulation
Casing and frame
Completely in stainless steel.
N. 2 HOT WATER PREPARATION GROUPS on the same platform
The first for the premixers and the second for pasteurisation.
complete with:
Motor pump for water circulation
Plate heat exchanger
Steam pressure reducer
Pneumatic valve for steam modulation
Condensate drainage
Temperature control of heating wate
N. 1 CONTROL PANEL
Manufactured in stainless steel AISI 304, with PLC for the control of different components of mix plant. The operator, through a touch screen panel, is in a position to start-up and control the functioning of :
- the stirrers;
- the mix pump;
- the water pump;
- the liter counter;
- the homogenizer;
- the alarms and safety devices.
and check the temperature of :
- the pasteurization of the mix;
- the outlet mix
- the hot water
- the tap or tower water
- the chilled water
It is also possible to memorize all timings and temperature of pasteurization on a Flash.
USB memory and transfer the data on a computer.
With the Modem system it is possible to make the remote assistance and control of the whole line.