Snowball Machinery® ice cream extrusion line currently is the most widely used ice cream industrial grade production equipment. In the past, limited by mechanical structure, electrical design and related hardware, it was mainly used in extrusion, cutting, insert stick products. After a lot of study and research, Snowball Machinery has applied Extrusion ice cream freeze tunnel to a wider range of Products such as sandwich ice cream, square, round, triangle, etc., bar ice cream with chocolate or without chocolate, cone ice cream, cup ice cream, wave ice cream, log ice cream, combined with robot technology to launch cake ice cream, 3D ice cream enhanced solution. It greatly improves production efficiency, reduces labor intensity, and reduces production costs for ice cream manufacturers. All ice cream manufacturers, please boldly put forward your product ideas, Snowball Machinery® will help you to create more perfect ice cream products.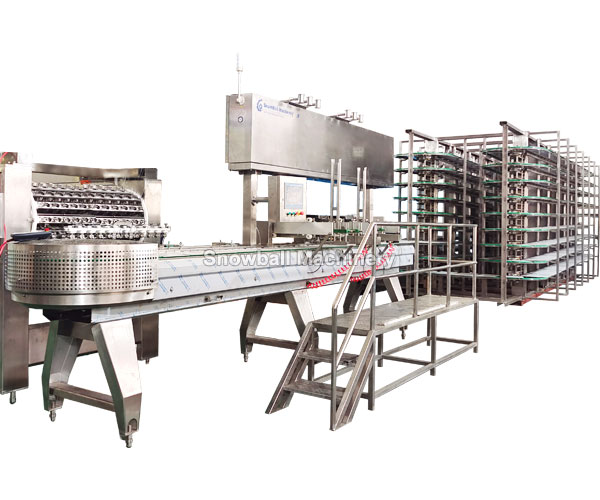 The features of the ice cream extrusion line produced by Snowball Machinery® are as follows:
· According to different product requirements, the output range is wide ranging from 2,000 pieces per hour to 30,000 pieces per hour. Different solutions can be arbitrarily designed according to the customer's site area to meet the needs of customers of different scales.
· Wide range of application products and high degree of automation.
· The internal and external stainless steel structure design is more in line with the hygiene level requirements of food production enterprises.
· The warehouse board and floor are more in line with the requirements of thermal insulation, firmness, anti-skid, etc.
· The stick label and extrusion die mechanism can be semi-automatically, automatically pushed out and tested according to different customer requirements, so as to achieve the actual production effect. Reduce waste discharge process without affecting production.
· The tensioning mechanism reduces the fatigue operation of the chain. At the same time, the chain is made of international high-standard stainless steel and other materials, as well as advanced exercise technology to achieve long-term use effects.
· The advanced servo control system enables the product to be cut and positioned accurately to facilitate precise grasping and release the product to the next packaging process.
· The combination of robots makes the products more abundant and perfect, such as customized ice cream cakes.
Working Station
| | | |
| --- | --- | --- |
| No. | Item Name | Main Configuration |
| 1 | Extruder | Mould with cutter and hammering |
| 2 | Mold for vertical extrusion | Customized, Single, double or multi color |
| 3 | Dispenser | Bypass valve and feeding tube |
| 4 | Main drive structure | Mechanical and Servo |
| 5 | Plate | Customized base on different capacity requirements |
| 6 | Driving chain | Special material processing |
| 7 | Plate of tunnel body | Thickness 150mm, unit weight ≥40g |
| 8 | Plate of tunnel bottom | Thickness≥3mm |
| 9 | Evaporator (outside cooling) | water defrosting system |
| 10 | Fan | Wind guiding circulation device |
| 11 | Electric control cabinet | Touch screen panel& PLC control |
Video of ice cream extrusion line
Couldn't see the video? Contact us ice@hiicecream.com
FAQ
1. Are you ice cream extrusion tunnel machine manufacturer?
Yes, we made this kind ice cream machines, and customized available for us.
2. Can the ice cream extrusion tunnel machine be customized according to demand?
Yes. We have different capacity model and also we can be customized according to your ice cream factory production demand.
3. If we can do cup or cone ice cream by this extrusion tunnel?
Surely, this machine can be made different cup, cone ice cream without filling machine. Advantage is filling and freeze in the same machine, save the labor cost and transfer time avoid ice cream melting.
4. If we can make 3D ice cream by this extrusion tunnel?
Yes, 3D ice cream products are popular now. Snowball Machinery® also engage made machines function meet customer 3D ice cream requirement, make perfect ice cream and save labor cost.
5. There is too big for this extrusion ice cream machine with tunnel, if we can customize smaller one based on our small room space?
Yes, we have made many small size machine for different ice cream plant based on their room space requirement. So, please sent us your room size, products and capacity requirement, then we can reply accordingly.
6. There is some different cake ice cream, very nice shape and colors. If we can make by this extrusion tunnel?
Yes, we will see your cake ice cream shape, size, and capacity requirement. Then we can suggest or design which way we can do for produce suitable machine for your ice cream factory. Mechanical, pneumatic, servo, or robot ice cream machine system.
7. If you can supply refrigerating units for extrusion ice cream tunnel? And which brand compressor?
We don't make refrigerating units by ourselves. But we can support service for good quality refrigerating units match our tunnel. Compressor normally very famous brand like Bitzer, Copland or any others.
8. Why should we choose Snowball Machinery® brand extrusion ice cream machines?
Same size, the output is higher. Material, the food contact parts are more hygienic standards. Material, the stainless steel structure of the whole machine has a longer working life. Components, the accessories of the whole machine are international famous brands, and the universality is good. The failure rate is lower, and the maintenance cost is lower. Flexible personalized design to meet more product needs and save labor costs.